Stucco Contractors Colorado Springs
Stucco Contractors Colorado Springs
When looking for stucco Colorado Springs, call us
The greater Colorado Springs – Pikes Peak region is known for gorgeous views, great weather, and beautiful homes. Much of the architecture in our area showcases the aesthetic of our south-central Colorado plateau, both in finish and colors. Leading this aesthetic is stucco, a durable, fire resistant, eco-friendly option that lends ambiance and class to your home or business. Stucco makes a statement, and a good one, on any building.
Stucco Contractors Colorado Springs is a locally owned and operated company that knows stucco and interior plaster. It is all we do, and we do it well and have for many years. Our experienced staff knows how to create color, texture, and finishes to complement your home or interior, taking advantage of natural shading and finish to increase the value of your property and the curb appeal.
Why use stucco in Colorado Springs?
When you think of a beautiful building in Colorado Springs that has presence, ambiance, and a timeless quality to it, it is likely the exterior is clad in stucco. Long considered an upscale finish, stucco is surprisingly more affordable than many realize, especially when the long-term return in durability and staying power is figured in. Stucco and plaster are both versatile, come in a wide range of colors and textures, and can be adapted to mimic other materials at a much lower cost. One such example is Venetian plaster, often used in place of expensive carved marble. Ask us for a free quote to add timeless beauty and increased value to your property.
Stucco is tough stuff. A mix of Portland cement, lime, sand, and water, stucco requires minimal maintenance, is fire resistant, provides insulation value, and is protective. It also breathes, the permeability allowing proper airflow in and out of your home. Stucco continues to cure over time, creating a more durable finish that can last 50 years or more. Many buildings from ancient Rome, Greece, and Egypt were finished in stucco, and thousands of years later, that same stucco is still intact.
Stucco comes in a variety of colors and textures, and an experienced craftsman can give you a myriad of decorating possibilities for patterns, finishes, and colors. When we provide a free quote, we also provide suggestions for the best kind of stucco or plaster for your project, whether it is traditional, acrylic, elastomeric, or a synthetic system.
We know you would rather be outside enjoying Colorado than maintaining the finish of your house. That is why stucco is a smart Colorado choice. Low maintenance, stucco can be cleaned, and a mild pressure washing is suggested once a year. Once every 4-5 years a sealant should be applied. Other than a regular walk around, especially after high winds or hailstorms and in spring once frost is passed, your stucco should provide you years of solid service.
What to ask when hiring stucco contractors Colorado Springs lists
When looking for a stucco contractor Colorado Springs likes, knows, and trusts, you need to ask a few questions. Ask for a copy of their license and insurance. Colorado is strict about licensing contractors, and only a Colorado license will do. Ask to see some examples of their work. And most important, ask them to describe in detail how they do repairs, or new construction build up. This will let you know immediately if the company tries to cut corners, putting stucco on a base or facing that absolutely will not support the weight, leading to problems. Any good stucco or plaster contractor will be happy to explain the process and be glad you asked.
Not all stucco companies in Colorado Springs are equal
Often when we are asked to take a look at stucco done by someone else, we are saddened to see poor quality work, or a complete lack of proper preparation. Stucco is heavy, 6-10 pounds per square foot. If the base is not property prepared, lath, scratch coat, fiberglass where needed, weep screed and all, the chances for the stucco to stay where it belongs are slim. This is also true of darkened, flaking, or stucco clumping off. That means whomever mixed the stucco or did the underlay did not do it correctly. A lot can be learned from just touching stucco, smelling it, and looking at the crack pattern. That alone will tell us if there is a chance of moisture intrusion, seismic or vibration issues, or other challenges.
To be successful and durable, stucco needs each step from base to lath to webbing and stucco layers to be done in order, done with correct stretch and fastening, and correct moisture and mix. Curing times between layers of stucco are critical so moisture is not sealed in or a too dry under layer does not allow the next to adhere. Experience and knowledge that your stucco contractor possesses determines the success, or potential for failure, of your stucco.
Stucco Contractors Colorado Springs also does interior plaster work
Plaster used for interior finishing work is a time-trusted material. From patterned ceilings and walls to back splashes and even bathroom walls and floors, plaster can be utilized as a toxic free product that can mimic everything from stamped concrete to carved marble. Naturally inert and one that does not off-gas, plaster comes in a variety of material types from clay to marble base. All are some form of limestone, and over time the finish hardens back into stone through carbon dioxide exchange from the ambient air. Plaster can be gently scrubbed and is durable.
Plaster interiors are coming back as a strong decorating detail due to the clean, minimalist look and luminosity it provides. Light is both absorbed and reflected from plaster, giving it a glow that makes a house a home. Tell us your ideas or provide the information we would need to get with your interior decorator when we give you a free quote. We can provide ideas for varieties of plaster and finishes to make your home interior stand out or quietly timeless.
What People Are Saying About Us
We've used them twice and I am calling them now to price out a new job. Rates are reasonable, workmanship is good, they show up on time and they were flexible with my schedule. 5 stars for stucco repair in Colorado Springs CO, and will hire again.
I had a small but not easy plastering job. I have an adobe house and so working on it requires something more than the standard set of skills. Stucco Contractors Colorado Springs put in the effort to see that it was done right. The best stucco contractors in Colorado Springs.
I couldn't be more impressed with the work this company did for us. Their work was flawless. Communication was great. I will continue to use them for stucco repair colorado springs in the future.
Great job from Stucco Contractors Colorado Springs. The stucco job came out perfect! Highly recommend. I'm so glad I chose them from another stucco repair contractors Colorado Springs. Clean up and communication was smooth. Overall a low stress easy process for me as the homeowner. Thank you!
Just had my house re-stucco'd by Stucco Contractors Colorado Springs. My experience was positive all around - communication, quality of work, professionalism, and price. Manager made the initial visit, evaluated the job, recommended a course of action to get the best results, and provided a quote. The work was completed in one day and the results were excellent. Contact Stucco Contractors Colorado Springs for stucco repair Colorado Springs.
Just had Stucco Contractors Colorado Springs return to stucco repair in Colorado Springs CO. The guys did another great job and perfectly matched the color and texture. These guys are just so professional and reliable, and we couldn't be happier. For us, there really isn't any other choice.
Just had Stucco Contractors Colorado Springs return to stucco repair in Colorado Springs CO. The guys did another great job and perfectly matched the color and texture. These guys are just so professional and reliable, and we couldn't be happier. For us, there really isn't any other choice.
I was really nervous to spend a significant amount of money on a plaster but I'm so glad I chose Stucco Contractors Colorado Springs. They were super professional. They did an excellent venetian plaster in Colorado Springs. I couldn't be happier.
Very professional, friendly, knowledgeable and very good at what they do! Call Stucco Contractors Colorado Springs and let him and his crew make your home look like new! Excellent workmanship and problem solving! Highly recommend this stucco company in Colorado Springs!!!
The communication from this company is GREAT! They came out to estimate the job immediately. Very professional and polite with a fair price. We had a couple of questions during the process and again they immediately responded and answered our concerns. The work completed is great and we definitely recommend them to anyone that is in need of stucco installation in Colorado Springs!
Stucco installation Colorado Springs knows is quality needs these things
A quality stucco and plaster contractor in Colorado Springs will know the climate and topography, as well as the materials the home or building is constructed with in our region. Wind and hail are two things that have to be taken into account for any exterior finish in Colorado. Building use, door type, window and outlet locations, all need to be taken into consideration when quoting a stucco or plaster job. Stucco particularly needs to cure between layers, and weep screed, a material that allows moisture to escape at the bottom of the walls, must be applied properly. Barrier around windows and under rooflines is also important, as well as chimney flashing areas. For damaged roofs contact this local roofing company for an estimate before starting any Stucco.
When do I need stucco repair in Colorado Springs
If you notice a crack 1/8" or larger on your stucco, you need to call a professional to assess the cause of the crack and suggest the best repair method. This Is also true if you touch your stucco and it flakes or crumbles, has a dark spot develop, or smells odd. Water can intrude in cracks and through damage your stucco can receive from hail or a wayward rock, allowing mold and mildew to grow. Just sealing a crack and painting over it is not suggested by any reputable stucco contractor until the situation is assessed, as paint and caulk tend to seal moisture inside your wall, resulting in mold and potential structural damage.
Stucco, while low maintenance, still needs a little TLC. Stucco Contractors Colorado Springs suggests walking your structure after any major wind event or hailstorm to look for damage, especially at edges, corners, and around doors and windows. Too often those areas were not sealed correctly to start with by a contractor who cut corners. Seismic activity or a lot of harsh door closing also can cause challenges. We suggest a gentle pressure wash once a year, and resealing your stucco every 4-5, for optimum serviceability.
The stucco over siding Colorado Springs debate
We often get asked if you can put stucco on existing siding. Our answer is it is a case-by-case basis, and stucco cannot just "go on the siding", period. Stucco has to have something to cling to and bond with to stay where it belongs and maintain its "shell". Also, when applying stucco over siding, usually there is no idea the condition of the interior walls are in, so covering over problems already existing is very real. Most often siding needs to come off and a proper substrate laid. There are cases, however, when siding of certain types can be overlain with barrier and lath and stucco applied.
Stucco supplies Colorado Springs trusts
All the stucco and plaster supplies we use and Colorado Springs trusts are formulated for Colorado climate conditions. This is especially important due to expansion and shrinkage during summer and winter seasonality. El Rey stucco, made for the high plateau, as well as other brands and textures, are part of our inventory. We will make suggestions for the best combination of traditional, elastomeric, acrylic, or other materials in stucco and plaster to meet your needs when we provide our free estimate.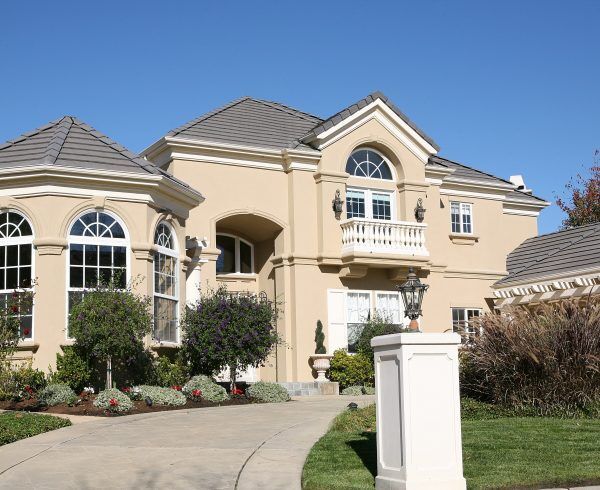 A local stucco company Colorado Springs relies on
We are a locally owned and operated business, and we live here. We take great pride in providing stucco and plaster services to residential and commercial projects alike. Our crews are trained and experienced, and we will do our best to stay on schedule on your job. And, when we are done, we clean up after ourselves. We appreciate the beautiful place we live like you do, and we want to help keep it that way.
When you need stucco contractors Colorado Springs is proud they hire, call us
Stucco Contractors Colorado Springs is the only call you need to make for quality workmanship, fair prices, and excellent results. Contact us to get a free quote for your stucco or plaster project, and let us share our knowledge to make your vision and dream a reality.